So half way through my morning, I was hit with a "It's
Wednesday
already! #*%*#@!!!!" mostly because once again, I really wanted to participate in my first
What I Ate Wednesday
. Even though I'd already had two meals, I didn't let that put me down, and made the best of what I had... So finally, here I am!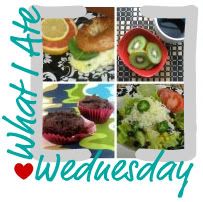 WiaW is more than just about posting the random things you eat during your day. Started by
Peas & Crayons,
the goal is for the blogging community to ultimately share in the one thing we obviously all have in common despite dietary choices, lifestyles, blog topics, etc: FOOD! It's fun, it's an easy to connect with each other, inspire others, embrace our food, and have yet another excuse to look at some food porn...
After my morning cardio, I was RAVENOUS, and tried my best to slowly sip (and chew!) my breakfast and while I managed, I didn't get a photo. Instead, this was breakfast, except imagine that blended with added spinach and spirulina (the stuff in the cup is hemp protein):
My mid-morning snack was half of one of these:
Lunch was a giant salad beast, with broken pieces of a homemade sprouted adzuki bean burger.
Of course, by the time I left the house to study, the whole WiaW thing slipped my mind again and came back to me just as I was eating this (it's not nuclear nor is it levitating, I promise, iPhones take very over-exposed photos with flash):
Of course, I also forgot to take a pic of my mid-afternoon sprouted

hummus with veggies, so here's a cheat pic of a version that I made a while back:
And lastly, another salad beast for dinner! This particular beast was a kale one, massaged in lemon and avocado, with dulse, a crumble of tempeh, and some of our
foodgasmic tomatoes
:
Yay food goodness! Join me tomorrow for what will hopefully be some successful vegan FroYo shenanigans!